Our 15 day intensive 200 Hour Yoga Teacher Training course will provide you with a life-changing experience on your journey to becoming a qualified yoga teacher. The course is delivered at Unite Health's boutique training studio located in Prahran, Melbourne.
Our highly experienced yoga teachers will guide you through the in-depth immersive program. This course will help you to develop your skills and training to become a certified yoga teacher, as well as developing your own spiritual and personal yoga journey.
This inspirational, fun, and authentic yoga course is a must for anyone interested in taking their yoga knowledge and skills to the next level to become a yoga teacher. Our 200 hour Yoga Teacher Training course is accredited and certified by Yoga Alliance.
Join us for a 15 day intensive 200HR Yoga Teacher Training certified with Yoga Alliance. Our training includes:
Daily yoga classes
Traditional Hatha Yoga in the modern context
Yoga asana, with a focus on exploring unique alignment in poses
Pranayama & Meditation
Physical anatomy & physiology
Energetic Anatomy including the chakras, gunas & koshas
History and philosophy of Yoga, including non-dual Vedic & Tantric philosophy
Study of Yogic texts such as the Yoga Sutras, Bhagavad Gita & Hatha Yoga Pradipika
Teaching skills shared include theming, sequencing & hands-on adjustments with a heavy focus on teaching practice
Creating energetic alchemy in the teaching space
Revealing your authentic voice as a teacher
2 teachers throughout your entire training
Comprehensive training manual
View a recent student review
This course is open to all.
Previous Therapeutic Yoga course attendees are entitled to a discount on the training, please contact us directly to receive your discount code.
IRENE AIS - Co-Founder and Head Teacher
Irene Ais is a master guide on the journey within who has spent over 15 years exploring the ancient system of yoga and its ability to empower our lives. Her extensive time studying the mind-body connection through Yoga, Meditation, and Physiotherapy, adds a powerful dimension to her knowledge and offering.
Irene is passionate about helping students navigate the physical practice whilst exploring the body as a portal to our deeper internal experiences. Irene's mantra is founded on awareness. The layers inherent in her teaching will lead you to experience the subtlest parts of who you are.
JOSH BLAU - Co-Founder and Head Teacher
Josh has garnered quite a following in Melbourne where he is known for his energetic, transformative and inspiring classes. Deeply respectful of the origins of yoga and acutely aware of modern day needs, Josh brings everyday balance and flow to his teachings.
Forever a student, Josh spent time training in L.A with acclaimed Black Dog Yoga and global training hub Sri Dharma Mittra at Dharma Yoga Centre in New York City, as well as taking many trips to India to connect with the origins of this ancient practice.
Josh's passion is to guide people to a place where they can feel more connected to themselves. In this quest to facilitate a higher state of consciousness in his students, he brings pranayama, meditation, and kirtan to his classes. Josh's personal mantra is fostering a deep connection to self as he believes when this occurs, we can begin to live life in a state of balance and flow.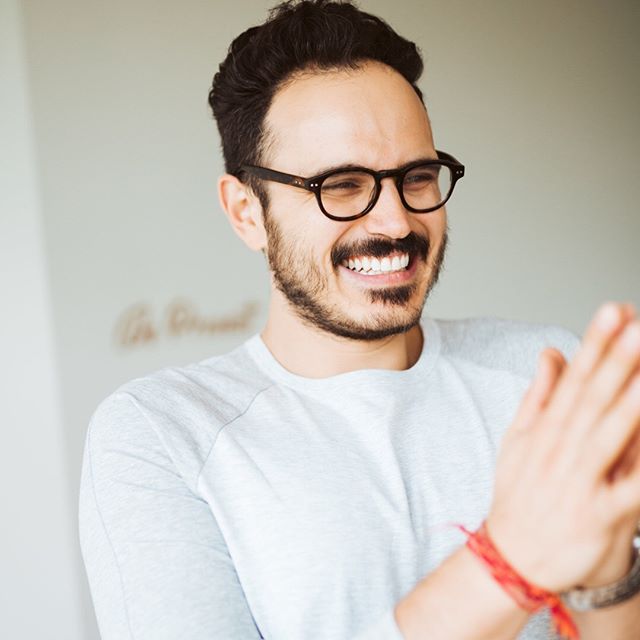 Do I need any prior yoga experience to do this course?
We encourage people from all walks of life to experience the 200 hour Yoga Teacher Training course. This course is open to anyone who is passionate and enthusiastic about pursuing their Yoga Teacher Training qualifications. Whether you have a lot of experience with yoga or are just starting out on your yoga journey, we welcome you onto this course.
Do I need to have completed the Therapeutic Yoga Level 1 and/or Level 2 courses in order to undertake the 200 Hour Yoga Teacher Training course?
No! This is a stand-alone course, so there are no pre-requisites for undertaking the 200 Hour Yoga Teacher Training course with Unite Health.
How does the 200 Hour Yoga Teacher Training course differ from the Therapeutic Yoga 1 and 2 courses offered at Unite Health?
The Therapeutic Yoga courses at Unite Health are designed specifically for allied health professionals to use yoga in their clinical practice. These courses are great for practitioners who want a taste of what yoga can provide their clients, as well as themselves personally. There is a strong focus on rehabilitation and clinical outcomes with these courses.
The 200 Hour Yoga Teacher Training course is a much more comprehensive course. This course is not limited to allied health professionals and is open to anyone who simply just wants to learn more about yoga and those wishing to become a yoga teacher. The comprehensive nature of this course means that participants will walk away with the ability to confidently teach a wide variety of people in the practice of yoga. This course also deepens the participants own personal practice of yoga. Following completion of this course, students can teach public yoga classes.
Do I have to attend every day of the course?
Yes. The course is run as an immersive intensive, in order to cover all of the information required to gain your yoga teacher qualification. Students will be learning new material every day, so it is important to attend all days.
Are there assessments or exams for this course?
Yes. As with all good qualifications, there will be assessments of student knowledge and capabilities. Our wonderful presenters will support and nurture you throughout the course to ensure you have the knowledge and skills to feel confident in these assessment tasks.
Unite Health
18 St Edmonds Rd,
Prahran VIC 3181
Phone: (03 8595 5043
Train
Prahran station is only 5 minutes walk from Unite Health, on the Sandringham train line. Visit Public Transport Victoria for train timetable information.