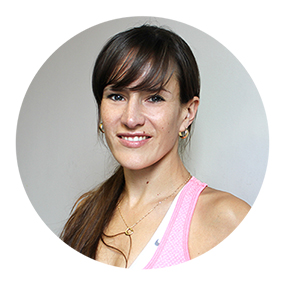 Training & Education Manager
Ba (Hons) Physiotherapy
Certified Pilates Instructor APPI
Certificate IV Training and Assessment
Sophie Contreras initially trained as a Physiotherapist over 15 years ago in Melbourne having always had an interest in the science of movement growing up. After a few years working in a variety of women's health and private practice positions, Sophie discovered Pilates and found herself in London working at the Hamspstead clinic branch of APPI Healthgroup at the start of 2006. Sophie at this time completed all her matwork and equipment Pilates training through APPI while gaining vast experience in the applications of Pilates in the clinical and rehabilitation setting. In 2007 Sophie moved from the clinic into the education branch of the company and this is when she first started teaching APPI courses. She has since been fortunate to travel around the world delivering APPI courses to Physiotherapists and equivalent degree therapists throughout the UK, Europe, Brazil and Australia.
Sophie met Sarah Todd in 2007, and the following year Francesca Burgess in the APPI education head office in London. Sophie, Francesca and Sarah have been great friends ever since and now continue to work together as Unite Health Management and the official providers of APPI education in Australia. Sophie is on hand for our members to provide them with technical advice on course content and the certification process as well as being heavily involved in coordination of the course schedule and the presenting team. Sophie still teaches Pilates and presents courses on the weekends as well as following her out of work passions – predominantly latin dance, performing and teaching in Melbourne.
Q&A with Sophie
How long have you been with Unite Health Management?
I started working for UHM in April 2015, but have had a working relationship with Sarah and Francesca for almost 10 years!
What's your role within the team?
As a Physio, Pilates teacher and course presenter, I am in a position to be able to offer information and advice on technical aspects of our education courses. I am heavily involved in course coordination and am in constant communication with our growing team of brilliant course presenters around Australia.
Why do you love Pilates?
For many reasons, its a real mind clearer for one, it really takes your brain away from the stresses of every day life for the moment that you are in class, focussing on all the details necessary to execute the Pilates movements effectively. I think this is one of the most valuable aspects of Pilates we should focus on as health professionals. It also is a fantastic tool to improve one's body awareness which has huge implications for teaching efficient movement – vital for those recovering from injury. The combination of control, strength and mobility makes it a versatile exercise and available to a huge range of people.
What do you do in your spare time?
I can generally be found in a dance studio, either training or teaching! I specialise in Latin styles and love nothing more than breaking a sweat to Brazilian beats!
What's your favourite place to visit in the world?
It's no secret that I am fond of travelling and this is a hard question, I have been fortunate to travel to some incredible places. At the risk of sounding cliche, I probably have to say Paris is the place I will always go back to, my husband and I have been fortunate to visit countless times and stay with a close relative, I'm not talking about the Eiffel Tower or L'arc du Triomphe, but the cobbled streets tucked away where you can be lost for hours, strolling, observing and just being absorbed by the charm of the place.