Tips for Staying Active during the Christmas Season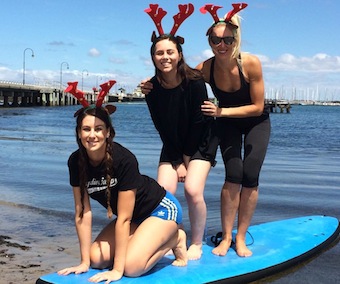 Tips for Staying Active during the Christmas Season by Susan Czyzo, Bachelor of Physical Education and Health, Master of Science in Physical Therapy.
We are officially in the busiest and what some would call the most stressful time of the year – the Christmas period. As a result of the demands of the season, many of us have probably already placed exercise on the back shelf, not likely to dust it off until the new year is well underway. With a little planning and creativity, however, you can find balance between celebration and wellness. Here are some strategies for fitting physical activity into your busy holiday schedule.
Hint at active presents. When composing your wish list, why not include items that may motivate you to get your heart-rate up, such as active-wear or new runners? Requesting vouchers for active excursions such as zip-lining or a kayak tour may also encourage you, and perhaps a family member, to step away from the Christmas desserts. For those of us who like gadgets, step counters or digital fitness trackers may also do the trick.
Plan your annual Christmas catch-up outdoors. A picnic in the park versus lunch at a restaurant is more likely to involve something active such as a swim, a kick of the footy, or a stroll along the beach.
Play tourist. Do you have family coming to town from overseas? Take them for a walk to see the sights instead of sending them off with a map to do it themselves.
Balance good and bad stress. When stress levels are peaking, exercise is an excellent way to get them back on track so you can actually enjoy the festive season. If you don't have time to fit in your usual 60 minute session, break it up into smaller sessions throughout the day.
Plan an active work Christmas party such as a group surf lesson or a scavenger hunt around your city. Active parties are great for team development and may even spark interest in a new activity, resulting in more active and therefore generally more productive staff.
Take advantage of less-crowded gyms. With New Year's resolutions, January tends to be a very crowded month at the gym. Get ahead on your fitness goals by hitting the gym in December when many others are tied up with other commitments.
Make time to get professional help with any injury you may have. The longer an injury keeps you sidelined, the more challenging it is to get active again. Seeking advice from a qualified health professional early on can shorten the inactive period.
It's important to remember that you don't have to take an all-or-nothing approach to staying active during the Christmas season. Incorporating just a few of these suggestions can leave you feeling less guilty post-holidays and more motivated to start the new year on a healthy and active note.
References:
Aldana, S.G. Sutton, L.D. Jacobson, B.H. and Quirk, M.G. Relationships Between Leisure Time Physical Activity and Perceived Stress. Percept Motor Skill. Feb 1996; 82(1): 315-321. Robroek, S.J.W. van den Berg, T.I.J. Plat, J.F. and Burdorf, A. The Role of Obesity and Lifestyle Behaviours in a Productive Workforce. Occup Environ Med. Sept 2010. Published online.
By Susan Czyzo, Bachelor of Physical Education and Health, Master of Science in Physical Therapy.