How do I become a reformer Pilates instructor?
Reformer Pilates has taken the world by storm and there's no sign this trend will slow down anytime soon - and it's not hard to see why. Reformer Pilates is a fun, dynamic, low impact form of movement that anyone can do!
More and more people are being drawn to the allure of living the life of a reformer Pilates instructor. Who doesn't want to spend their days seeing clients live their best life by helping them achieve their health and wellness goals?!
But, we know that there's a lot of overwhelming information out there about reformer Pilates coures and how to become a reformer Pilates instructor, so we've created this simple and uncomplicated guide to help you turn your passion for Pilates into a new, fulfilling career.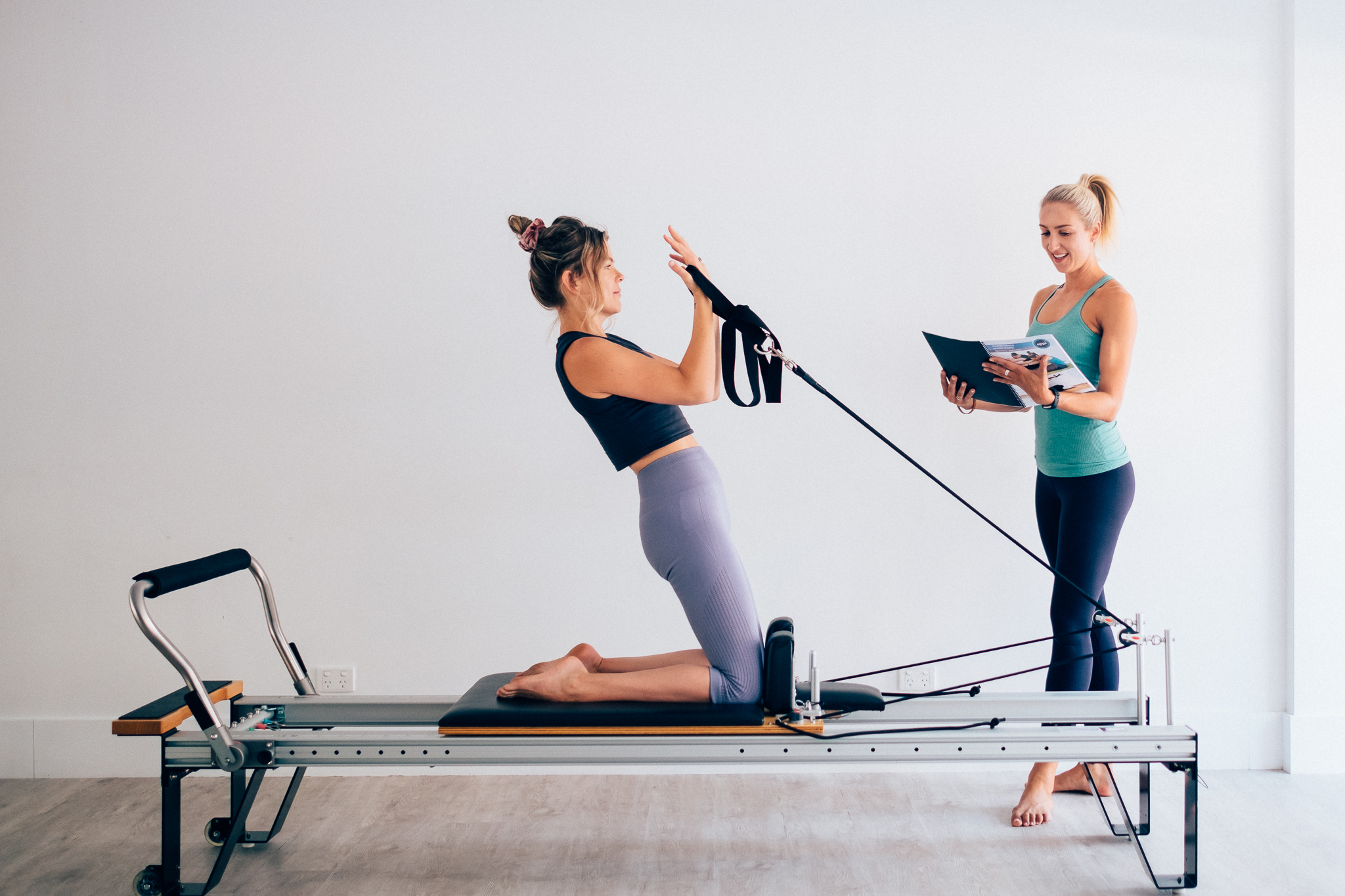 Reformer Pilates for the fitness industry
First, get familiar and super comfy with Pilates
Before signing up to a course, get yourself to as many different reformer Pilates classes and studios as you can. Try different trainers and experience all the different styles and variations in teaching. Attending regular classes will help you gain confidence in your technique, and you'll start to get a feel for the type of instructor you want to be.
Make sure you have the time to commit to the journey
It takes discipline and dedication to stick to your studies. Make sure you have the time and energy to commit to attending all of your lectures and practical sessions. Our APPI Pilates Instructor course is comprehensive, and very hands-on. Attendance to all your sessions is key to becoming a competent and confident reformer Pilates instructor that employers will be BEGGING to hire.
Select the Pilates teacher training course that best suits you
To become a reformer pilates instructor, you need to complete a reformer Pilates course that will ensure you are adequately trained to instruct Pilates using the reformer.
Our APPI Pilates Instructor Certification has been designed to create OUTSTANDING world-class reformer Pilates instructors. Designed and delivered by degree qualified allied health professionals and highly experienced reformer Pilates instructors, our certification includes the full repertoire of both matwork and reformer Pilates so you will be 100% industry ready on completion.
I only want to teach reformer Pilates, why do I need to learn matwork first?
We are SO excited for you to launch your reformer Pilates instructor career. But before you can walk you first have to learn to crawl - you have to start with the basics. It's industry standard in Australia, and globally, that before you can become a reformer Pilates instructor you need to have a solid understanding of matwork based Pilates. Through this component of our APPI Pilates Instructor course this covers:
The 5 Key Elements - you need to understand safe posture and starting positions

Anatomy - you need a comprehensive understanding of the body

The Pilates teaching script - you need to know how to cue and structure a class

Matwork repertoire - this is where Pilates starts, and progresses to the reformer
Covering all this ensures you have the fundamental knowledge in place to commence your reformer Pilates instructor course.
Obtain your Pilates Instructor certification
Once you completed your reformer Pilates instructor course, you'll need to complete all your out of course logbook hours and sit your exams. Exams are made up of a theory and practical component to showcase your knowledge and understanding of everything you've learnt.
After passing your exams you'll receive a certificate that you can send off with your job applications and of course you'll get a hard copy to hang proudly on your wall!
Apply for insurance
Life is full of surprises so it's best to be prepared. Once you have your certification, make sure you have adequate reformer Pilates instructor insurance. This also includes the requirement to obtain a First Aid and CPR certificate.
Get your applications out
There is a huge demand for confident and energetic reformer Pilates instructors. Get your resume out to your dream studios and make sure your personality shines through! To help you land your dream job, we offer a job board that is always updated with opportunities from our extensive network in the industry. We also have a private Facebook group where you can connect with industry peers and have exclusive access to even more job opportunities!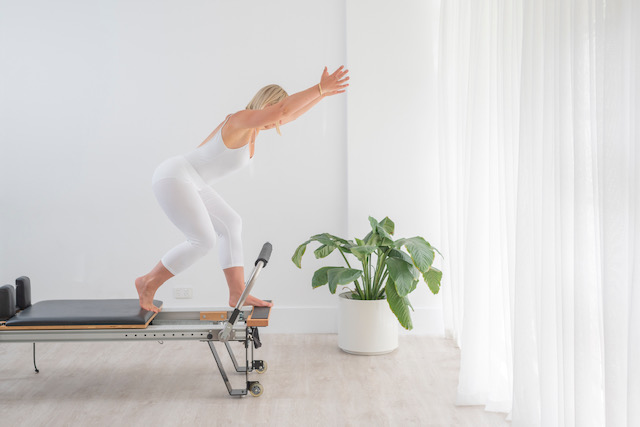 Reformer Pilates in the clinical space
I have an allied-health degree, which reformer Pilates course is right for me?
APPI is a world leader in Pilates teacher training courses for physiotherapists and allied health professionals. APPI Clinical Pilates Certification Matwork & Equipment is renowned in the industry for its research-based approach to Pilates teacher training.
What does the APPI Clinical Pilates Certification Matwork & Equipment cover?
This extensive course ensures your training covers all the essentials:
14 days training (a mixture of online via zoom and face to face)

APPI Pilates

Matwork Levels 1-3

APPI Pilates

Equipment Levels 1-4

Certification exams

10 FREE online Pilates classes

Learn over 250 clinical Pilates movements on the mat, reformer, cadillac, split pedal chair and arc barrel

Pre-course lectures and comprehensive course manual

Flexible training options - 2 years to complete the Certification
I've already completed my clinical matwork training, what's the right pathway for me?
Don't worry, we've got you covered. The APPI Clinical Pilates Equipment Certification is a comprehensive program that provides you with the fundamental knowledge and skills needed to teach reformer Pilates. You will be able to confidently instruct clients in safe, effective exercises on the reformer.
What does the APPI Clinical Pilates Equipment Certification cover?
The APPI Clinical Pilates Equipment Certification series is broken down into 4 x 2-day courses. Following each teaching block, you will be able to start teaching the exercises straight away and implement your new skills into your clinical practice.
8 days face to face training

APPI Equipment Levels 1-4

Learn over 150+ clinical Pilates movements on the reformer, cadillac, split pedal chair and arc barrel

Clinical approach to training that can be immediately implemented

All courses designed and delivered by experienced physiotherapists

Practical hands-on training

Internationally recognised training in 24 countries
I have a degree, do I need to sit an exam?
As an allied-health professional you're qualified to teach Pilates under your scope of practise. But, for those who like to cement everything they've learnt with a certification you can sit your clinical equipment exams.
The process starts after you have attended all four equipment levels and completed your certification logbook. Once you pass both exams and submit all homework and logbook requirements, you will become an APPI Pilates Equipment Certified Instructor.
APPI Pilates is taught to health and rehabilitation professionals around the world, so you will be entering an international community of certified teachers. You will also have access to the APPI logo to promote yourself as a certified teacher.
I am an experienced Pilates instructor without an allied health degree, how can I progress my education?
Our APPI Clinical Pilates Equipment Certification is perfect for Pilates instructors who are looking for an advanced credential or those who have already completed their instructor training but would like more experience teaching Pilates equipment classes. It's also great for anyone interested in becoming a certified clinical Pilates instructor. Get your certification today!

Reformer Pilates Courses from Unite Health


Unite Health isyour gateway to mastering the art of Pilates on the Reformer. Our comprehensive course is designed to equip aspiring Pilates instructors with the knowledge and skills needed to excel in the world of Pilates instruction. Join us in beautiful Australia and embark on a transformative journey towards becoming a certified Reformer Pilates Instructor.


Reformer Pilates Course Highlights:


Professional Instruction: Our team of experienced and certified instructors will guide you through every step of the course. You'll learn from the best in the industry.



Comprehensive Curriculum: Our Reformer Pilates Course covers a wide range of topics, from the principles of Pilates to advanced Reformer exercises. You'll gain a deep understanding of the Pilates method.



Practical Experience: We believe in hands-on learning. You'll have ample opportunities to practice your skills on the Reformer and work with real clients, gaining valuable teaching experience.



Flexible Learning: We offer both in-person and online course options, allowing you to choose the format that suits your schedule and learning preferences.



Certification: Upon successful completion of the course, you'll receive a certification recognized within the industry, opening up exciting career opportunities.

Why Choose Unite Health?


At Unite Health, we are passionate about Pilates and dedicated to helping you achieve your goals. Here's why our Reformer Pilates Course stands out:


Australian Excellence: We are proudly based in Australia, offering a training experience that reflects the high standards of Pilates education in the country.



Small Class Sizes: We keep our class sizes small to ensure personalized attention and a supportive learning environment.



Continued Support: Your learning journey doesn't end with certification. We provide ongoing support and resources to help you thrive as an instructor.



Community: Join our thriving Pilates community, connect with fellow enthusiasts, and build lasting professional relationships.
Enrol in a Reformer Pilates course Today

Whether you're a fitness enthusiast looking to deepen your Pilates practice or an aspiring instructor, Unite Health's Reformer Pilates Course is your key to success. Take the first step towards an exciting career in Pilates instruction. Enrol today and unite with us on this incredible journey.
Ready to start training as a reformer Pilates Instructor?