What to expect in your first Reformer Pilates class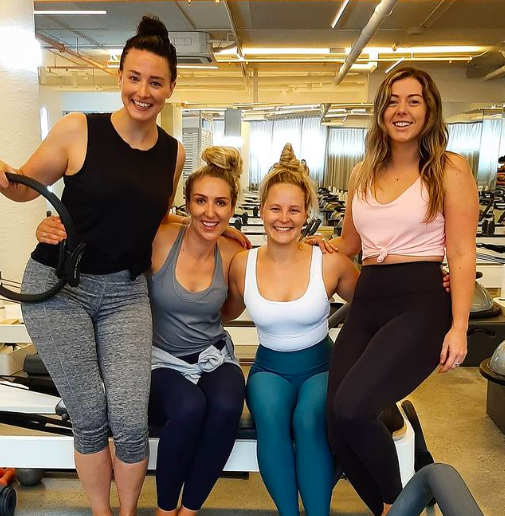 Reformer Pilates is a workout that has always been in my periphery as a form of exercise I'd like to one day try. But like many others, I'd shied away from joining a Reformer Pilates class, feeling intimidated by the unusual equipment that looked complicated and difficult to operate.
This week, I decided to pull back the curtain on Reformer Pilates, mostly to understand what all the fuss was about, but also to inspire anyone else who's been thinking about giving it a go!
Here are my takeaways from my hour on the carriage.
Reformer Pilates studios are not exclusive
You don't have to be a studio member to join a Reformer Pilates class. You can easily purchase a one time casual class pass so you can try it out before signing up to any memberships. For my very first class I could think of no better studio than the visually stunning Love Athletica. Booking a spot in their online platform was quick and super easy. On arrival the welcome I received was warm. My imposter syndrome melted away, I didn't at all feel that I'd entered a space I wasn't meant to be in.
Don't be afraid of being the only newbie
I was elated when the class instructor announced there were another 3 or 4 total beginners in the class. She gathered us around a Reformer to give us a run down of the machine, what the important parts were called: carriage, straps, footbar, platform, and explained the springs. Each spring has a colour associated that, when set, increases or decreases the carriage resistance.
I worried that all this new information was going in one ear and out the other, but our instructor explained there was no need to remember it all, she'd guide us through each movement and tell us which springs and how many to set depending on our experience level. With that, I picked my Reformer, and was pleased that another newbie set up shop next to me. Great! My performance anxiety was eased.
You'll feel a little wobbly, but trust yourself
Like the first time standing on rollerskates it's unnerving to put your trust in a piece of equipment that moves underneath you. I worried that I wouldn't be able to control the carriage, that it would get away from me, or that I'd topple right over the edge!
Our first movement required a box to be placed on top of the carriage, then from a four point kneeling position, with one foot on the footbar we pushed ourselves down the length of the Reformer. I felt like I was miles away from the floor, and I was tense my first try. But I made it back to the starting position unharmed. With my second go felt better and by my third push I was confident in my core and my balance. For the remainder of the class, I listened intently to cues, making sure I engaged the right muscles, and felt confident in maneuvering the carriage.
It's harder than you might think, but in a good way
As an outsider to Reformer Pilates, I'd envisioned a class on a contraption that helped you stretch and realign. A slow-paced, flowing workout. While the movements are low-impact and controlled, this is an athletic workout. My preconceived idea that I'd spend an hour stretching was quickly squashed, when after our warm-up, we moved into a squat over our Reformer, and using one hand pushed the carriage away for what felt like an eternity. My legs burned, my heart rate increased with every rep and I definitely started to sweat.
Don't let your beginner status deter you
There was a point in class where I fumbled with the hand straps, unsure of how to place them around my wrists. My neighbour pointed out they needed to be unhooked. I had a laugh at myself and moved into position. I cut myself slack since this was all new. By the end of class what I'd realised is with the level of concentration it took for me to remain in control, listening and watching the instructor and checking my form in the mirrors, I'd paid little attention to the abilities of everyone else in the class. I know for sure, I would not have been nearly as graceful as the pros in the room, but I hadn't fixated or noticed it at all. I was there to do something new for myself, and that's where my focus was.
Overall?
Like anything, you have to start somewhere. With regular practice, I know my form and understanding of the movements will improve. And with that, I'll get a lot more out of the workout. I was so glad I took the plunge and signed up to a class. I had fun! And I was sore all over the next day, a sure-fire sign of a great workout.
If you've been putting off joining a class, don't be afraid! Jump in, have a go, and you might discover a new form of exercise you love. I know I did. The next day I signed up to a 10 class pass, and I can't wait to get back on the Reformer.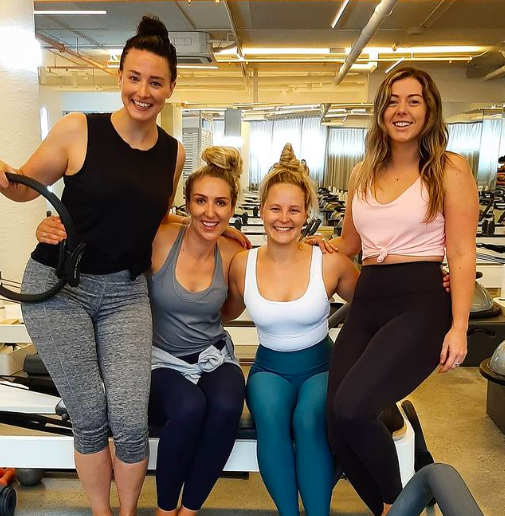 A happy snap of our bright-eyed & bushy-tailed Unite Health team, enjoying a beautiful reformer flow, thanks to our friends (& partner studio) Love Athletica.