Unite Health's Pilates Training Associations and Partnerships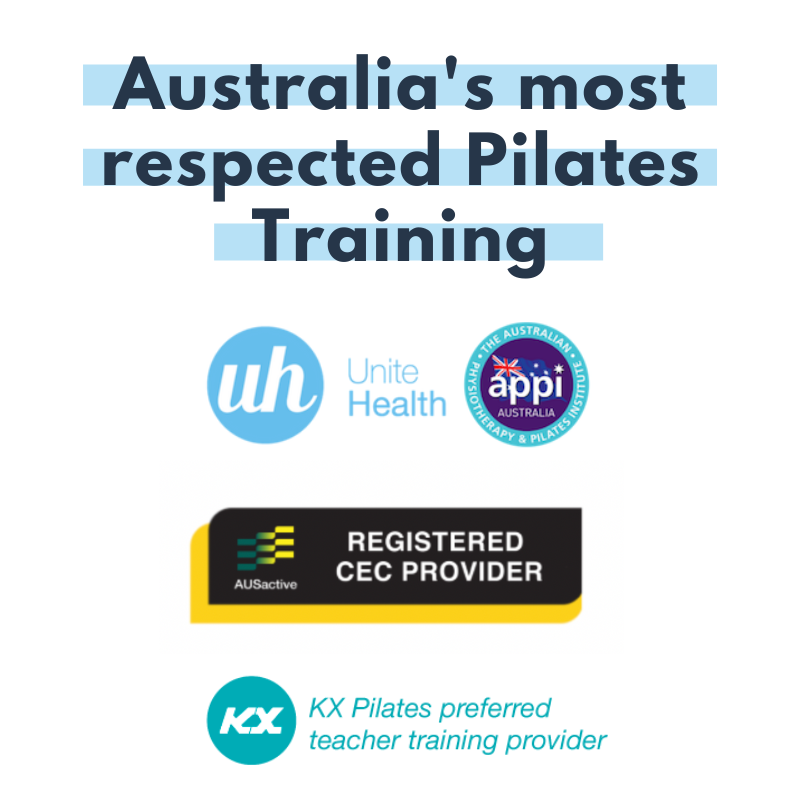 Did you know we are Australia's leading Pilates training provider?
At Unite Health our primary aim is to empower you to become the best Pilates instructor you can be. We have proudly certified over 50,000 instructors across 24 countries. Our mission is to train Pilates instructors who have the highest level of knowledge and competence in the industry, while providing a community where you feel supported and valued.
Our world recognised Pilates instructor courses are broken up into two streams of education; APPI Clinical Pilates Certification for physiotherapists and allied health professionals, and APPI Pilates Instructor Certification for those with no previous Pilates or fitness training. Our highly accredited Pilates program is currently available online and in-person.
What is APPI?
APPI Pilates stands for The Australian Physiotherapy and Pilates Institute and is recognised all over the world for its high-quality instruction and world-renowned reputation. Founded by physiotherapists and with more than 20 years of experience educating Australia's future Pilates instructors, the APPI method is proud to be leading from the front in the development of comprehensive, well-supported Pilates teacher training programs.
Unite Health is the exclusive provider of the APPI Pilates Certification in Australia. That means that when you train with us you gain an internationally recognised Pilates certification. What does this mean for YOU? You can gain employment in Pilates in over 24 countries around the world!!
Gaining a Pilates certification in Australia with APPI ensures you are equipped with the most relevant and up to date Pilates knowledge. With an outstanding reputation world-wide, you will be HIGHLY sought after in the industry. You can read more about APPI here.
What is AUSactive?
AUSactive is the united body for Australia's health and well-being. A not-for-profit industry association that exists to professionalise the exercise and active health industry through engaging in partnerships, advocacy, delivering education, quality and accreditation. Unite Health are proud to be accredited by AUSactive; an association that supports the industry to deliver an environment for more Australians to adopt a healthy, active lifestyle.
This partnership provides YOUR future Pilates career with credibility. Not only will you be recognised as being trained by an industry leader, graduating with an accredited Pilates course provides employers with confidence.
What is KX Pilates?
KX Pilates is a dynamic, high-intensity reformer Pilates workout designed for everyone. They offer 50-minute classes combining traditional Pilates with cardio and endurance for a full-body toning workout, designed to increase flexibility, balance and coordination. Their industry leading trainers run 60+ reformer workouts a week, in over 80 locations Australia wide.
Did you know Unite Health are KX Pilates' preferred training supplier and Australia's favourite provider?
Train with Unite Health and you can become a successful Pilates instructor for KX Pilates.
Our APPI Pilates Instructor Certification requires no prerequisites and is designed to ensure you have the support and guidance you need to become an outstanding, world-class Pilates instructor. Our 14-day teacher training course equips students with the skills, knowledge, and confidence to teach matwork and reformer Pilates in the health and fitness industry.
With flexible learning options, the course offers face to face and online training options to best support you on this exciting new endeavour.
Once certified, you are ready to start applying for jobs. To become a KX trainer, you are invited to join the KX academy and finalise your journey to becoming a KX accredited trainer. To find out more watch as Sarah Todd, Unite Health Director, chats to Amie Skinner, national training manager for KX Pilates, about the key attributes KX Pilates looks for when recruiting staff.
What do our Pilates partnerships mean for YOU?
At Unite Health our main priority is YOU. We want YOU to feel supported. We want YOU to graduate feeling ready and empowered to commence your Pilates journey. Unite Health's Pilates training is accredited with the leading industry associations to help YOU. To give you the best chance to succeed in this BOOMING sector.


Find out more about our courses:
APPI Pilates Instructor Certification for those with no previous Pilates or fitness training.
APPI Clinical Pilates Certification for physiotherapists and allied health professionals