A glimpse of Matwork and Equipment foundational movements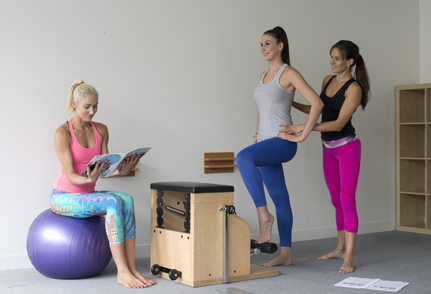 APPI Clinical Pilates Equipment Level 1: Standing leg press
One of the advantages of the equipment repertoire is the ability to transfer the Pilates principles to functional weight-bearing positions. Standing leg press from APPI's Equipment level 1 is a simple, yet effective exercise to train glut med, lower limb alignment and balance. You can perform the exercise with hands on the uprights if balance is compromised, or progress it by adding an upper limb component with free weights as shown in the video. You can easily modify by changing the spring resistance to increase or decrease the challenge to the moving leg.
APPI Clinical Pilates Matwork Level 1: Clam with variations
Clams are always a great exercise to incorporate into a class to improve awareness of the lateral sling. Clam level 2 allows people to work through a greater range of motion at the hip when compared to level 1 (starting with the thighs stacked). You can add a soft pilates ball between the ankles to challenge proprioception and adding a knee extension from the externally rotated position, adds significant leverage which will encourage increased gluteal activation to keep the thigh still in space. Look out for people falling into adduction and internal rotation as the leg extends.
Our most popular training option, APPI Clinical Pilates Certification - Matwork & Equipment is recognised all over the world for its research-based approach to Pilates teacher training.
APPI Clinical Pilates Certification includes:
14 days of face to face training
APPI Pilates Matwork Levels 1-3
APPI Pilates Equipment Levels 1-4
Learn over 250 clinical Pilates movements on the mat, reformer, cadillac, split pedal chair and arc barrel
Pre-course lectures delivered via our online learning platform
Opportunity to profile yourself on our instructor finder page once certified
Early bird specials - save over $1900. Limited time only. For more info or to book click here